Reprinted from the Winston-Salem Journal, Fran Daniel, June 7, 2014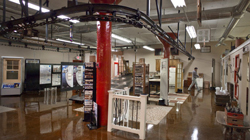 A former Thomasville Furniture warehouse and distribution building wasn't the first choice for the owners of Plyler Supply when they decided it was time to find a new home for their growing wholesale company. "We wanted a good location on and off (U.S.) 52. or (Interstate) 40, or something like that that was easy for shipping and receiving for customers, mainly," said co-owner Scott Sechler.
Plyler Supply, an exterior building supply distributor in Winston-Salem, had rented space for 23 years out of a 40,000 square-foot building on Idlewild Industrial Drive, just off Kapp Street. But the company's owners — Tom Collins, Stokes Huff and Sechler — wanted a building of their own. When they initially looked at just the exterior of the 215,000 square-foot Thomasville Furniture building at 1245 Ivey Ave., Sechler said, "Nah. It's three stories. It wouldn't work for us."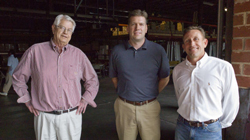 But six months later, Plyler Supply's owners had a different reaction, as they focused on the building's seven dock doors and train shed. They also considered all the recent redevelopment of old buildings and warehouse space in downtown Winston-Salem. They were excited about having people going through a dock area to get to their showroom. "It gives us a different showroom than your basic building supply business," Sechler said. We think that's been a good thing. We like it."
The new space also gives the company a chance to expand Camel City Cabinetry, an independent company doing business under the Plyler Supply name. So S.T.C. Properties of Forsyth County, owned by Sechler and Collins, bought the property.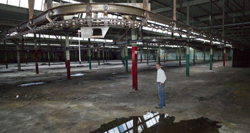 Plyler Supply moved to the second floor of the building on Jan. 1, but Thomasville Furniture's story in the building is far from ending. Plyler Supply's owners just hired a historian in Greensboro to research and provide them with a detailed history of the building.
In addition to using its new showroom to showcase its products and provide a nice place for its customers to use whenever they invite their own customers to the building, Plyler Supply is trying to keep the history of Thomasville Furniture alive. The company has kept an overhead chain conveyor system that runs throughout the building. A siding display on boards hangs from the system in the showroom. Plyler Supply has also retained other features from the building's former use, including a furniture trolley that is now a snack bar shelf. Some heavy metal carts have been repurposed as desks for employees.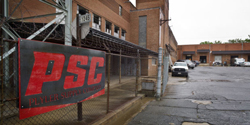 S.T.C. Properties is considering different options for the building's basement and top floors. Ideas include leasing some space, and putting a residential loft or business condo component on the top floor, which has windows throughout the ceiling, giving it an abundance of natural light. "All the windows face north so the temperature really does not build during the day," Sechler said. "You get the natural light all day, but you do not get the heat build-up." Keith Maness, senior estimator for Rehab Builders Inc. in downtown Winston-Salem, likes the idea of offering a residential component. "That top floor would make awesome apartments," Maness said. He said that the glass windows in the ceiling are what makes the space so great for residential units.
Rehab Builders has been doing business with Plyler Supply for about seven years, typically for exterior siding, windows and cabinets. "They supply and install," Maness said. He called Plyler Supply a "standup company. He said that "everybody has hiccups," but Rehab Builders continues to do business with Plyler Supply because the company is in tune with the service side of its business. "If anything needs to be done, they do it, and they do what they say they're going to do," Maness said.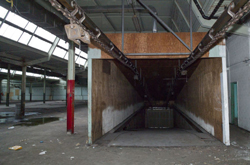 Plyler Supply was started in 1991 in Winston-Salem by Chris Plyler. The company opened a branch in Danville, Va., in 1995. Huff bought Chris Plyler's interest in the company in 2002. At the time, Sechler was Plyler Supply's president and Collins was the controller in accounting. Those early years were the company's heyday, when it primarily sold vinyl siding and vinyl windows to major national builders. But when the economy tanked between 2007 and 2008, the company changed its business model, focusing more on hometown business and providing the best customer service to local builders, Sechler said. "I think the Lord watched out for us," he said. "Also, we're kind of a close-knit family. Our guys, as far as our sales force, really got out and beat the bushes, and tried to go the extra mile to take care of the customers."
Plyler Supply also started stocking more products to broaden its customer base. "We tried to add more specialty type products and then stock some of those products so they weren't just special orders," Sechler said.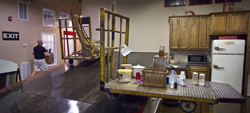 The company's cabinetry side of the business started in 2009 as a result of the downturn in the economy. The company had one color — a standard brown that was marketed primarily to the apartment market.
"If you liked my 'tutti frutti' color, I could sell you cabinets," Sechler said. "If you wanted vanilla or chocolate or strawberry, I'd tell you, 'No hard feelings, but I've only got this flavor.'"
The company's cabinetry business did well, and a year ago Camel City Cabinetry was born.
Sechler joked that today Plyler Supply is more like a Baskin Robbins because of its increased cabinet color offerings. "I think we've got about 40," he said. "We just added probably 15 of those in the last month."
Today, Plyler Supply keeps a variety of products in stock, including real wood siding, fiber cement siding, white pine and aluminum railings, exterior doors, and composite decking. Sechler said that some of its products come from out of state, but the company tries to buy products from family businesses based in North Carolina whenever possible.
With the new location on Ivy Avenue, Plyler Supply is poised to move to its next phase.
The company, which employs 27 people, has forecasted its sales to increase 25 percent this year compared with 2013. The company's sales rose 15 percent last year over 2012, Sechler said. "In the near future, we want to develop a cabinet showroom that's dedicated just to cabinetry," he said.
Address
1245 Ivy Avenue
Winston Salem, NC 27101